Originally I was going to post something about web design. It was going to be great. I'll probably post something like that tomorrow.
But look how great this End of the World poster looks. Now THERE is a design worth celebrating.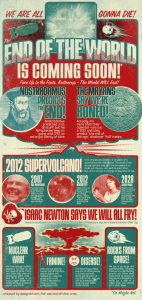 Click to enlarge
It's got everything: Minimalist design, well-focused color palette, thematics, linear readability. It's all there!
Oh, and we're all still alive.
Sorry, Mayans.
Image Source: End of the World!