Logo and Brand Development

The face of your company
If there's one thing you've got to pay attention to, it's your logo. It's the face of your company. It's the way your company is perceived and often the first thing one of your customers sees. It's also the focal point of all of your marketing efforts. Our Fort Lauderdale logo designers take great pains in developing a logo that's right for you and will get your business noticed. And we don't stop there. The application of your logo design to your stationery and products is also critical and we don't leave a stone unturned. Our Weston logo design company serves both national and local businesses in South Florida, including Fort Lauderdale, Davie and Plantation.

VIEW OUR GRAPHIC DESIGN SERVICES


VIEW SAMPLES OF OUR LOGO DESIGNS
Roboanimatronics - Branding 2.0
Call on us to have our Fort Lauderdale logo designers put together a really creative mascot for your business. These character logos are very memorable and create a strong memory hook that will always bring your business to the top of the viewers mind. Everyone can relate to these cute characters. If you have an idea yourself or you need some creative input, our logo design agency in Davie can help.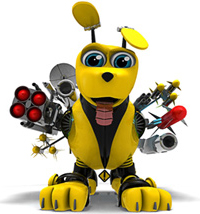 Fetch
Meet our first litter of roboanimatronic puppies. It is often said that "dogs, babies and sex sells". Our yellow puppy, Fetch, is our corporate mascot. We use him on our website, direct mail campaign, stationery, vehicle wraps, business cards and print advertising. The blue puppy, his brother, works for us as a mascot for Remotehound. We've created a few animations on the site which adds some action and entertainment. If you're interested in the breed, give us a call and we can genetically (or graphically) create one just for you.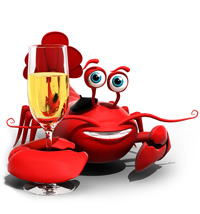 Art Lobster
This little character logo is an art connoisseur. He loves gourmet art and rock bottom prices! If you are interested in learning more about art just remember to check out Art Lobster.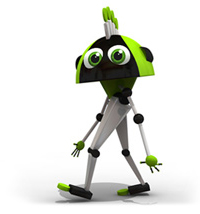 iThing
Introducing the I-Thing from I-Prints of Weston. He is a roboanimatronic creature created in 3D. There are a few animations incorporated with the character that allow us to do quick, simple animations for use in Internet applications and web sites. This character was developed and used as part of the I-Prints logo. He was also incorporated into their website and used in their direct mail campaign.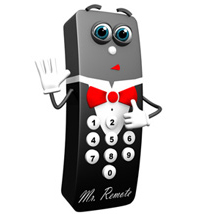 Mr.Remote
Mr. Remote and his twin brother Sr. Control Remoto are a couple of wild and crazy guys. Sr. Control Remoto is pretty popular with the ladies, but he's also a good example of what our logo designers in Plantation could possibly design for one of your products to gain mass appeal. We can incorporate them with live pictures, and integrate them into any of your advertising materials. They are both spokesmen for two different web sites selling replacement remote controls.


Back to top